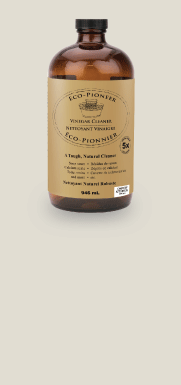 Concentrated Pure Vinegar Cleaner
At 5 times the strength of regular vinegar (acetic acid), Concentrated Vinegar Cleaner is as powerful and versatile as a natural cleaner can get. It's a heavy-duty limescale remover and environmentally-friendly bleaching agent; but since it is packaged in a reusable amber glass container, it bears the hallmark of a natural, sustainable product with a great retro-look.
100% pure and non-hazardous to the environment.
Ingredients: Deionized water, acetic acid, citric acid and glycolic acid.
Simple recipes that use Concentrated Vinegar Cleaner: